Alycia Pascual-Peña Talks Netflix's Moxie and Her Career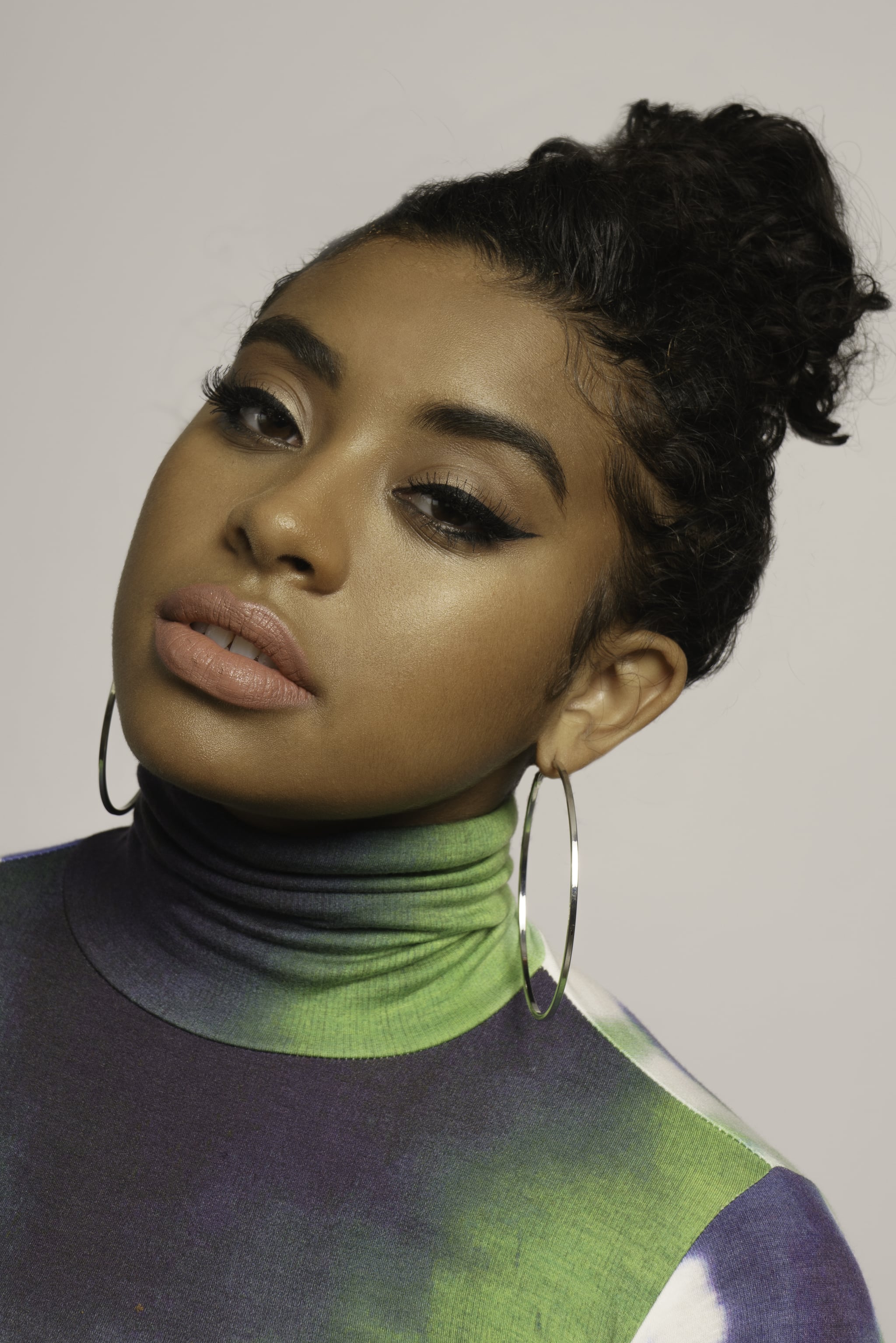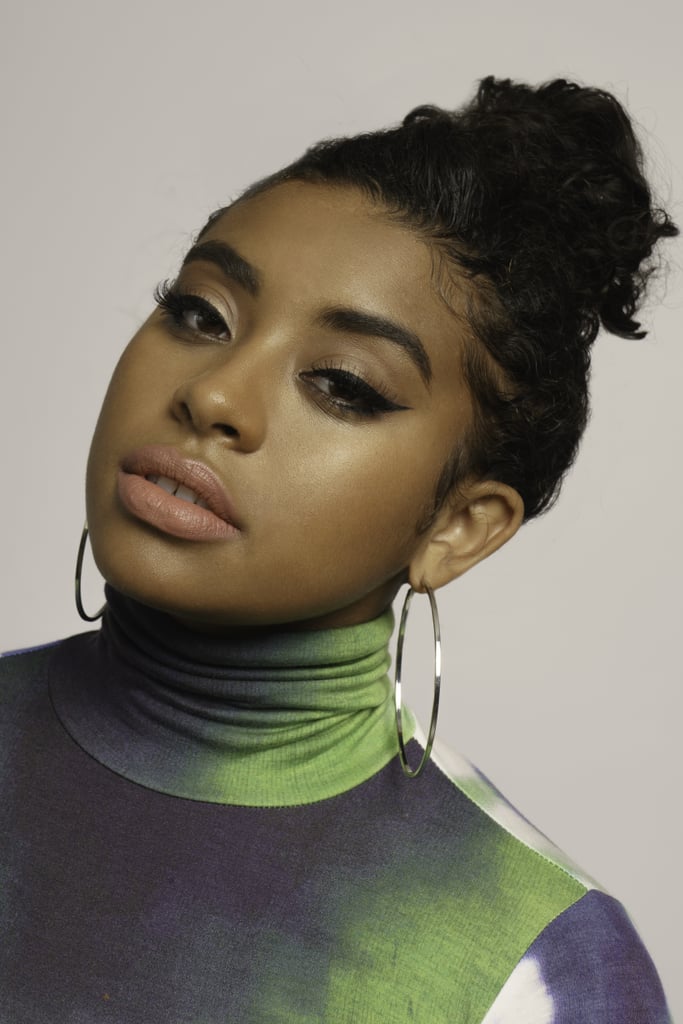 Image Source: Brandon Hicks
If you're not familiar with the name Alycia Pascual-Peña, you will be. The young actor got her start in the industry at the age of three, always knowing she wanted to be an actor. Prior to her roles in Moxie and on Saved by the Bell, she was still balancing life as a college student majoring in communications and political science. "I did it for as long as I could. Then Moxie came around and kind of changed my life," she told POPSUGAR. "It brought me to LA and Saved by the Bell kept me here permanently."
While studying at Marist College, Pascual-Peña sometimes struggled to find balance. "Balance would be too kind of a word," she said to me with a laugh. "I wasn't always so great at it, but I just stayed determined and learned how to really compartmentalize my life while I was in school. This led to me figuring things out and doing things unconventionally like I'd film self-tapes in dorm hallways at 3 a.m. and made makeshift videos in my dorm." If you're not familiar with the self-tape process, it's basically a digital audition and involves the actor filming their lines. I can only imagine what the other students thought coming across her in the process. "I knew that I didn't want to stop acting, but I knew that I had a passion to pursue my education," she added.
"I did it for as long as I could. Then Moxie came around and kind of changed my life."
"I definitely was a hot mess and a half sometimes," she shared. "At one point in my college career, I had three jobs, was the vice-president of my entire class, and on different boards, like the Black Student Union. I was doing way too much." If anything, this dedication prepared her for her roles as Aisha on Saved by the Bell and Lucy in Moxie. Both know exactly what they want and are ready to combat the injustice they see at their school, no matter what it takes. Although she's no longer in school, Pascual-Peña is as determined as ever to make a change in Hollywood.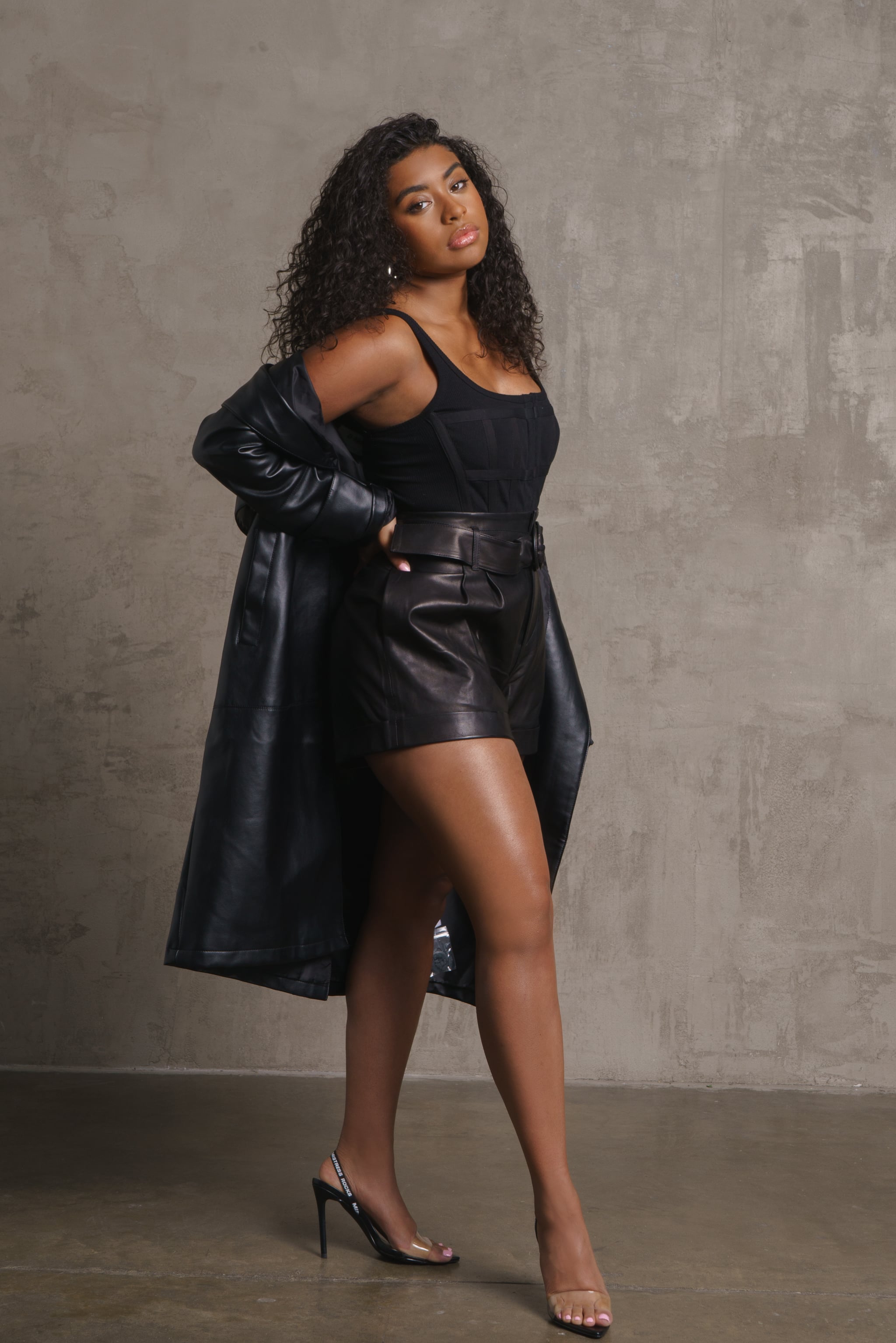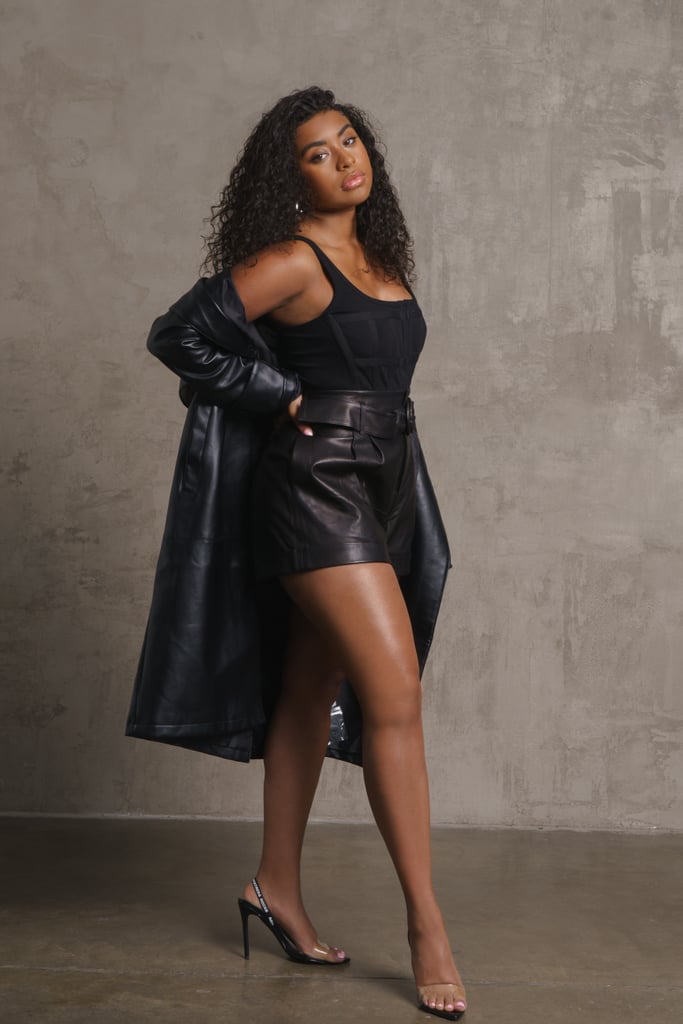 Image Source: Brandon Hicks
It's no secret that Hollywood has a problem when it comes to a lack of diversity and a lack of authenticity when telling diverse stories. While it's true there has been progress in recent years, Hollywood still has a long way to go, and Pascual-Peña wants to be a part of this change. "I think I'm really privileged to live in a time where I feel like consciousness is shifting and there's a paradigm shift happening in a lot of fields where we're calling for both diversity and authentic diversity," she explained. "But frankly, I would say it's not enough. I think changes are happening, but I'm not seeing enough stories centered around people of color in marginalized communities."
She continued, "Typically as an Afro-Latina, I can still firmly say within my years acting, including this one, which is now about 12 years of professional acting, I've only seen about two roles that specifically asked for an Afro-Latina." Neither Lucy in Moxie nor Aisha on Saved by the Bell were initially written as Afro-Latina. "They simply became that because I was a part of projects that really respected my voice and committed themselves to portraying diverse multi-dimensional women."
"I am Black. That is not something that can be negated in any of the characters that I've played."
Despite the lack of roles written specifically with this part of her identity in mind, Pascual-Peña goes in with the hopes she can be part of the change. "I am Black. That is not something that can be negated in any of the characters that I've played so I've been grateful to take part in stories that were uplifting stories of Afro-Latinas," she divulged. "I'm praying to see more stories that include Afro-Latinas and be respected for our complexity and our community. I also want to see more people of color, marginalized individuals, and LGBTQIA+ individuals behind the camera, so they can be a part of telling these stories."
To take part in this change and to combat the notions of those in Hollywood, Pascual-Peña is unapologetically herself. "I combat that with my truth. I combat that by always being vocal in what I want to see while also trying to be intentional about the role that I take and the stories that I'm a part of. If I combat that with my artistry, hopefully, and hopefully I'm a part of the change," she revealed. Eventually, Pascual-Peña wants to venture into writing and producing so that she can ensure these stories are told. "It's always been a goal to write and produce because, at the end of the day, they're the ones who have the jurisdiction of really navigating where the stories go," she said. "I want to tell nuanced stories about Afro-Latina women. We have to make a way for ourselves."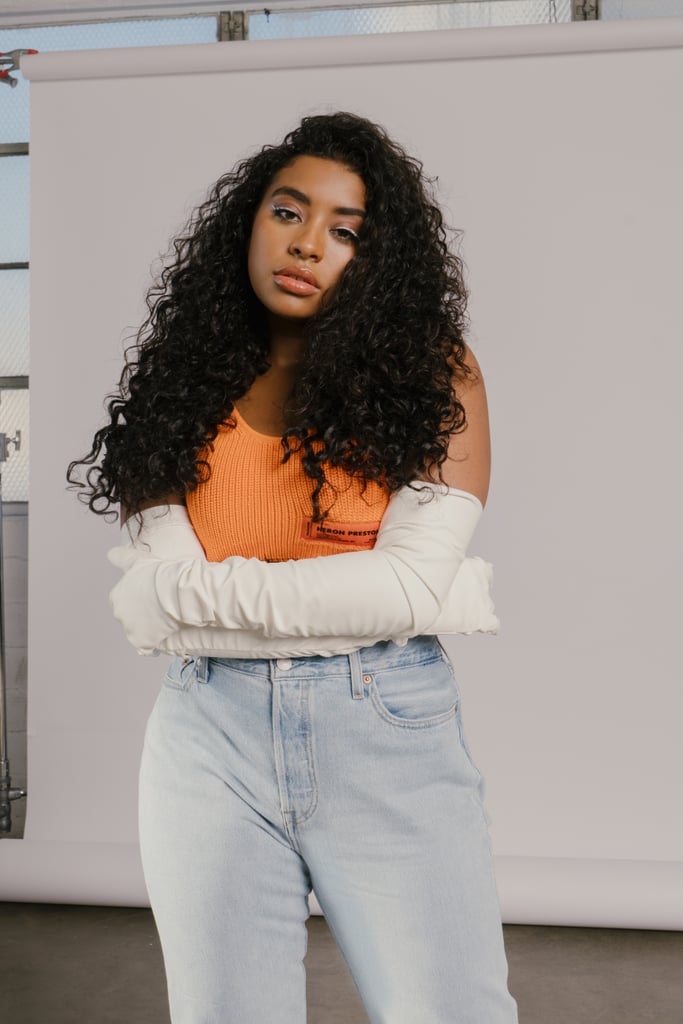 Image Source: Brandon Hicks
When the trailer for Moxie first dropped, Twitter was quick to point out how Pascual-Peña's character was harassed in class then later told to keep her head down by white characters. An avid user of Twitter herself, Pascual-Peña was no stranger to the backlash. "I wanted to listen. I think I was empathetic to it," she revealed. "People only had components of the story, so I think it's natural for them to react in the way that they did. I pray that when they see the actual film entirety, that they leave with a much different impression."
While on Twitter, she also saw concerns that Moxie was romanticizing harassment thanks to a scene between her and Patrick Schwarzenegger. "I think it's great that people were being inquisitive and wanting to be critical of a story that they thought was going to be romanticizing abuse or harassment, which this film is not doing," she explained as I told her that had been my original view as well. "If I was an audience member, I think I would inherently believe that's what the story was going to say, too, because that's what we've become accustomed to and see in the media, which is unfortunate and detrimental to us as women and as a society."
I think I would inherently believe that's what the story was going to say, too, because that's what we've become accustomed to and see in the media."
Instead, Moxie is about a teenager publishing an anonymous magazine calling out sexism at her school. This inspires her fellow students to speak out about their own issues, which is something that is near and dear to Pascual-Peña's heart. "I just stay dedicated to advocating for what I think is right and doing that and everything that I do with my actions, my art, my personal life, vigorously; even when it's not the most popular thing to do," she remarked.
On the phone, her passion and enthusiasm for Moxie and what it's meant for her personal life is clear. "I think something powerful about the film is the fact that we see activism on a spectrum. Implementing change and using your voice doesn't always have to be something big. I think it's great that we see a variety of views from these girls from different perspectives and different backgrounds." In her own life, she strives to advocate for good, both personally and professionally. "I advocate for the things I care about, whether it's equity and diversity, racial justice, my own critique of the misogyny community, and the arts. I strive to always be vocal and grow in my knowledge and try to do it in a lot of ways, by trying to leave things better than I came to them."
While filming Moxie, the cast truly became a family. "We're super, super tight-knit, which is a result of Amy curating the best group of people I've ever been a part of," she said with a laugh. In fact, during our interview, Lauren Tsai, who plays Claudia in the film, was over at her house with Josie Totah, her bestie/Moxie and Saved by the Bell costar. "Prior to the world shutting down, I took trips with these girls, had family dinners, and I ended up moving in with one of them. Shooting was such a blessing, and I can't express enough how amazing each person was. Even when we trying to tackle difficult issues within the film, everybody made it such a wonderful supportive environment."
"I hope that the audience leaves feeling empowered and more inspired to speak out about things that make them uncomfortable."
When it comes to what she hopes audiences take away from the film, she wants them to feel as empowered as she did making it. "I hope that the audience leaves feeling empowered and more inspired to speak out about things that make them uncomfortable," she shared. "The dopest part of the film is the fact that you see someone like my character, supervocal and curating events of young women, but you also see someone like Claudia's character, who enrolled the club in school and did something in the logistical aspect. Then you see Vivian, who isn't as extroverted, but really gets to the cause by creating the zine, which is then a catalyst in empowering so many other young women at their school. So I hope that people essentially leave with joy and feel more compelled to live their truth and use the voice."
Moxie might have changed her life, but she still has a long and bright future ahead of her. Next up? Season two of Peacock's Saved by the Bell revival, which was renewed in January 2021. "Obviously, I'm elated that we're going back for season two, and we're superexcited as a cast," she disclosed, the enthusiasm in her voice evident. "I'm also looking forward to the girls really coming together in the show, because I feel like that's not something that we really saw in the first season. I would love to have more scenes, obviously selfishly with my girl, Josie Totah. I'm also loving the idea of being more of Aisha, just dominating it on the field as a quarterback, because we really see her step into her own in that regard." When we last saw Aisha, she was headed to tell Jamie that she still had feelings for him, only to see him making out with Lexi, Totah's character. And, of course, we can't wait to see where this love triangle goes. Outside of the realm of Bayside High, there's an indie film in the works that Pascual-Peña is excited about. "It's a story that I think is impactful, and like any roles that I get to play, I would be humbled to be a part of it."